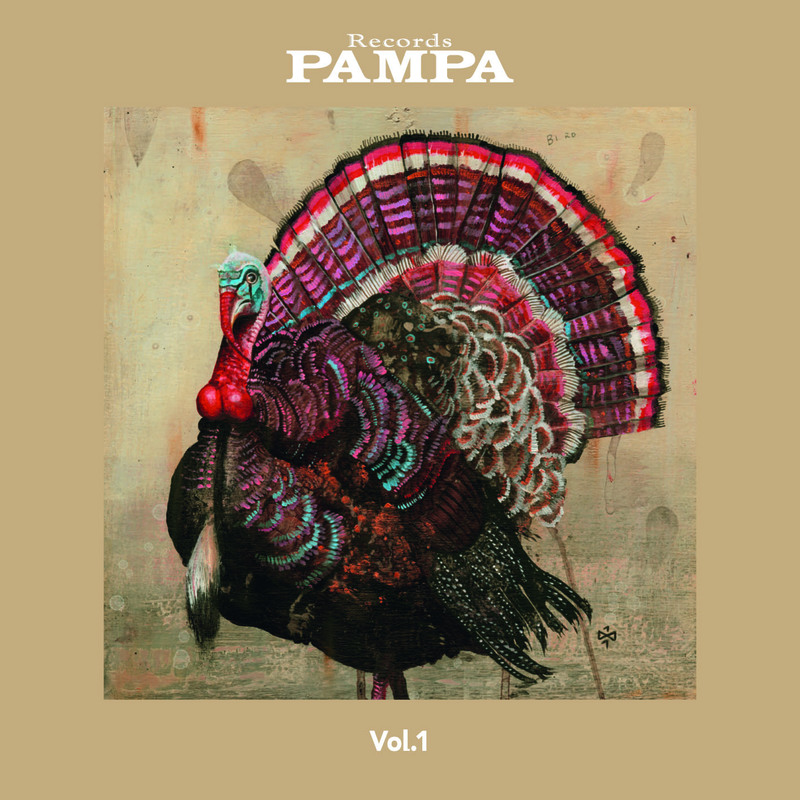 PAMPACD011 - DJ Koze Presents Pampa, Vol. 1
DJ Koze, Ada, Axel Boman, Isolée, Die Vögel, Stimming, Michel Cleis, Lawrence, Dntel, Jackmate
More Info
Hello Friends,
We are touched to finally present you Pampa Vol. 1
When we decided to go for a label compilation our main goal was:
Every single song has to be a star!
Almost 2 years we kept chasing and squeezing the best out of our good friends and admired artists until we now finally got what we dreamed of in the beginning:
A Firmament of Stars.
We kindly asked the stars behind the stars to write a litte quote on their work:
Lianne de Havas - Lost and Found (Matthew Herbert Remix)
Matthew:"I loved the original track and one day i was in a hotel room in italy and took an mp3 of the finished track and tried to chop it in to shape before a gig. i don't normally do this kind of thing, so feel a bit awkward about the whole affair. "
Roman Flügel - 9 years ( Dj Koze Remix)
Kosi: " As i listened to these beauty i felt the deep wish to made a version for the club in a decent and humble way. just adding a beat and stretching the arrangement to 10 minutes.
Only god knows how the significant snaerdrum of my favorite Mood 2 Swing Classics made it into my version.
We asked these old heroes for permission and a new child was born"
Ada - You and Me
Michaela : "There was this organ-melody I had in mind but after a while I got stuck...then Dj Koze joined in and suggested to add a beat, so I followed his advice and snatched one from Die Vögel."
Axel Boman - In the Dust of the Planet
Axel: "In my recent music the end part of my songs is getting longer and longer. more than half the song is an extended ending. i aim to stretch that end until the beginning is completely erased and the end becomes the beginning. a metaphor for life, aging and my fear of dying. i think this song is an important step towards this new start."
Nasrawi - Bump with you
Nasrawi :"Bump with You was a part of a full album that I thougt could be Pampa style, so I played it for Kosi while driving us around Dubai all weekend, not saying a thing about who the music was made by. Then on the way to the airport he finally wanted to know what the hell this Track is and boom, a new Pampa track was born, fresh like a Barsha Falafel !
Funkstörung - i does it
Fakesch:"'I Does It' is the goodest statement in hip hop history...period!
It throws us back to the future: late 70ies Funk, early 90ies HipHop, 2016 Electronic...it proves why Funkstörung got the Funk!
A crazy collab with our favourite weirdo 'Sensational' (former Jungle Brothers)!
Jackmate - Pacemaker
Michel: "Pacemaker happened at the end of an all-nite-jam, catching that moment of fatigue harmony and overdoze…"
Lawrence - Glow
Pete: " Travelling by night can be the xmost inspiring thing in a djs life- a journey between complete emptiness and wonderful insanity. Almost connected to utopia one seaks for the brilliance. Producing a piece of music prior a night out at the club is the guide through nowhereness- sometimes it glows in the dark…!"
Dntel - Snowshoe
Jimmy: "We bought snowshoes a couple years ago but never ended up in any snow, so a year later I returned them, unused. I thought about them a lot, though, and this song reminded me of them."
Josef - I wonder
Josef: " i originally tried to make a song like Unicorn kids´s "pure Space" . longing and youthful and with that kind of synthesizer but in the end this little song came out…"
Michel Cleis - un prince
Michel: " Un prince " is the first almost finished track I produced for my forthcoming album.harmonies and arrangement appeared very fast.
Colour addition came through a recording session with singer Sophie Hunger and *keys man* Alexis Anérilles having tasty food , good Italian wine and rainy days as inspiring partners."
Die Vögel: Everything
Mense : " We had a kind of British 2-Step beat with some clarinet-melodies and got stuck.
Then DJ Koze joined in and suggested to get rid of the beat. That was a wise decision.
Sophia Kennedy sang the lyrics which begin melancholic and end sanguine and the music does the exact opposite. And that's that."
Mount Kimbie – Bells_5
Kai: "The track Bells_5 came together just after I had broken up with my girlfriend and was homeless, sleeping in the studio in Bermondsey, South London. I used acoustic foam to make a bed and turned the guitar amps on at night for heating. Love the hi-hat sound in this one. "
Stimming - No 17
Martin : " a tiny spinet chord progession, a low analogue tanzbär woouap, a pinch of ritalin and fresh mountain air are the ingredrients for my trick no17"
Isolée - i like it here can i stay
Rajko "I wrote this song during a transitional period in my life for my cat. It is inspired by an Apache Native American custom. When someone is really sick, a medicine man performs a very sacred ceremony where they chant to the ill individual."
Jamie xx & Kosi Kos - come we go
Jamie: "This song is an ode to London's orbital motorway, the M25. i was thinking about a Family who was so isolated, so removed from society, that they would just go and spend the end of their days in a car. The cooperation with Kosi has nothing to do with it"
Gold Panda - Black Voices
Derwin Digger "This track started out as a remix for a group called Voices of Black who released some 12"s on Wolf&lamb and my Notown label. They are currently on hiatus. The original sketch became this little jam I made in hope that one day they'll work together again."
Acid Pauli - Nana
Martin:: "Recently my friend Adrina gave me a little white tissue with the following words printed on: "Manifest with precision"
Every time I read it , I think about Nana and how precisely she manifested in this piece (of music), the moment she left our world but not. "
Roman Flügel - 9 Years
Roman: " When I started to work on '9Years' I was thinking of a particular beautiful and on going relationship and how precious friendship is in general.
One day I suggested the track to Kosi and he felt it immediately. His club version which he sent to me completely out of the blue somehow emphasized my originally feelings."
TRACKLIST
Lianne La Havas Lost & Found (Matthew Herbert Remix)
Roman Flügel - 9 Years (DJ Koze Remix)
Axel Boman - In The Dust Of This Planet
Funkstörung feat. Sensational - I Does It
Jackmate feat. Nik Reiff - Pacemaker
Die Vögel Feat. Sophia Kennedy - Everything
Isolée - I Like It Here Can I Stay
Jamie XX Vs DJ Koze - Come We Go
Gold Panda - Black Voices