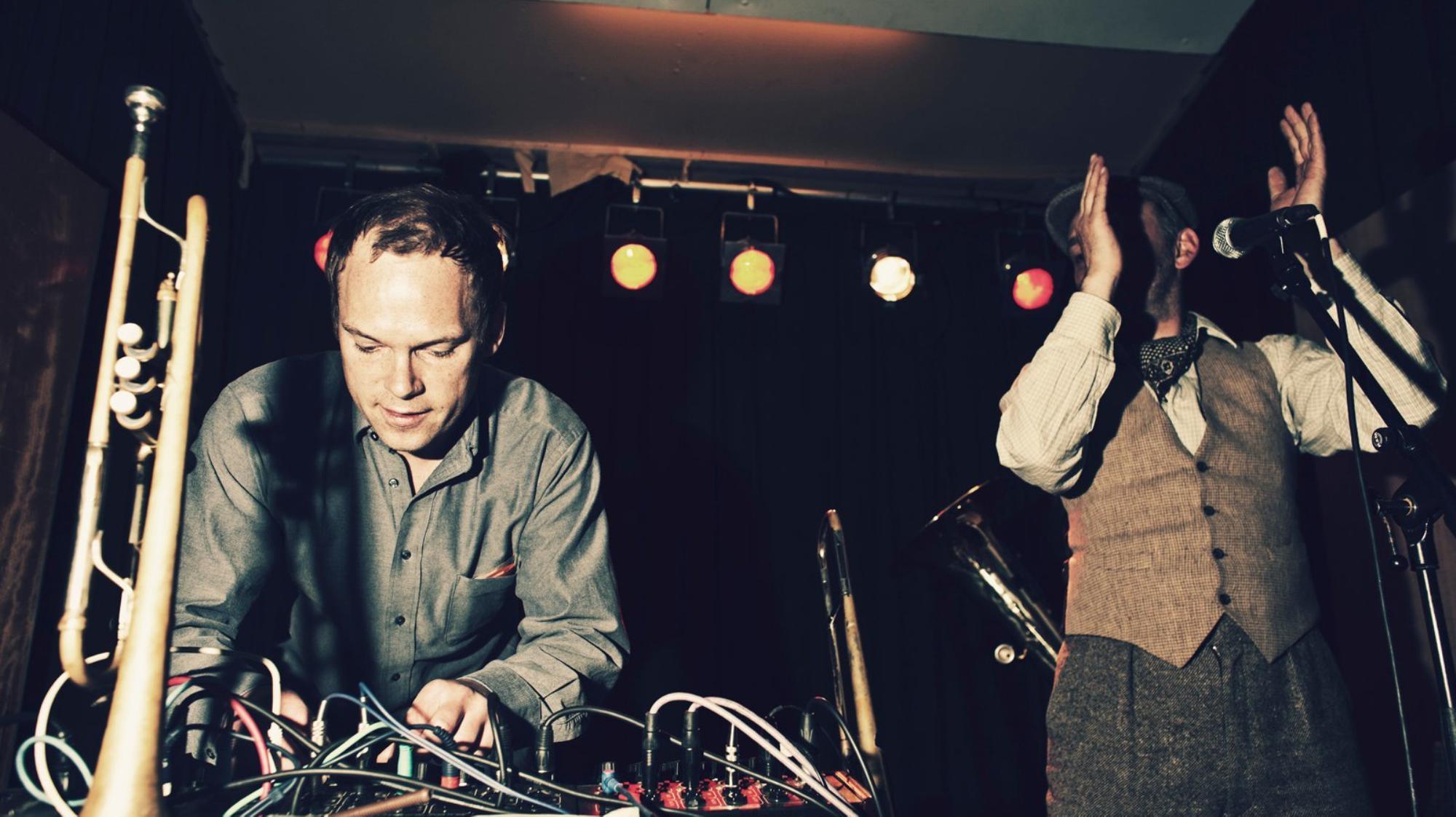 Die Vögel
Die Vögel (German for "The Birds") is a collaboration between Jakobus Durstewitz and Mense Reents, both accomplished musicians active since the 90s, first linking up as pioneering "Hamburger Schule" band Das Neue Brot. Jakobus is an innovative multi-instrumentalist who has recorded several albums with his own project JaKönigJa aside from his versatility as session musician; the no less talented Reents caught attention releasing on famed kraut-house label Ladomat with his group Egoexpress, later joining punk bands Die Goldenen Zitronen and NRFB, and he currently operates the Art Blakey Studio in Hamburg.
With their combined performance and production experience, Die Vögel represents what an electronic live act can be in today's musical landscape. The don't just press "play"—they actually play, and their output reflects a true sense of playfulness. DJ Koze cites them as the reason he decided to found his own label Pampa Records back in 2009.
Die Vögel's first single, "Blaue Moschee", notoriously became Sven Väth's secret weapon in his sets throughout 2010. German pop singer Oceana would later sample the track for her "Endless Summer", which became the official song for the UEFA Euro 2012.
In 2011 they released the "Fratzengulasch", which became a massive club anthem, hitting the 2011 Poll of German music magazine Groove at the #2 position, garnering further praise from the likes of XLR8R, Resident Advisor (4/5), Trax, De-Bug, Data Transmission, SPEX and DJ Mag (8/10).
The video by Katharina Duve and Timo Schierhorn won the MuVi Online Award at the 2012 Oberhausen Short Film Festival.
Now in 2013 comes their new 12" "The Chicken", which contains vocals samples of legendary German filmmaker Werner Herzog…
On the B-side, the hypnotic "Mesmerize".
Despite the success of their recordings, what really makes Die Vögel so unique is their live performance: They take the stage with an arsenal of real instruments, such as tuba, trombone, flute, trumpet and percussion, always combined with a propulsive bassline. In their brief history, they have played internationally at top clubs including Les Ambassadeurs (Paris), Kehakuma Space (Ibiza), Berghain (Berlin), Kubik (Melbourne), Berns (Stockholm) and Cruxifix Lane (London), as well as at festivals such as Distortion, Fusion, Urban Art Form and Modular.
DIE VÖGEL Live (Pampa Records, Hamburg) @ Closer Episode 12
Die Vögel - Mesmerize (PAMPA017)
Die Vögel - The Chicken (PAMPA017)