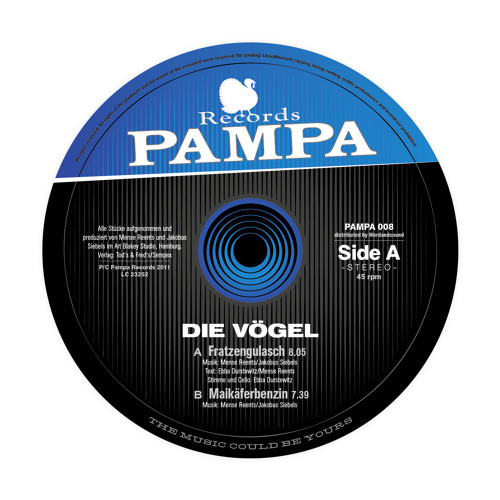 PAMPA008 - Fratzengulasch
Die Vögel
More Info
Die Vögel are back.
Almost two years after their sensational debut release' Blaue Moschee, the arena rocking EP that's still a permanent fixture in Sven Väth's record bag, Die Vögel have laid another milestone in the history of club music - the Fratzengulasch EP.
Ground breaking, surreal and captivatingly timeless, this dance music doesn't give a damn about the laws of gravity and the monotony of everyday routines.
For some reason or another, there seems to be a sort of restricting fence around the electronic dance music scene at the moment. In true Trojan style, Die Vögel batter and ram the wall until a hole appears; a hole big enough for all the gleely squealing party people to crawl through. Out and on to freedom! It's a brave new world and help is at hand for the weary of ear. Listen in to the dream-like canons, freely dissonant brass orchestrations and hypnotic-psychedelic beats.
The arrangements are clever, without relying on samples and tried and tested techniques. Off they stroll, Mense Reents and Jakobus Siebels, breathing in the fresh air, enjoying a clear view of a history of nocturnal dance music that goes back beyond 1986 and Chicago and is today international electronic folklore.
It was the machines that taught Die Vögel duo to play their instruments in a different way and from them the machines have learned what makes a musician tick.
That's how songs like 'Fratzengulasch' come about: A tribal meditation, and a beautiful canon sung by Jakobus and Ebba Durstewitz, otherwise known as the band Ja König Ja.
Or the glorious 'Maikäferbenzin': There are sub binaural sounds on this track that get your brain hemispheres swinging in perfect synchronicity, on a frequency generally only experienced when in a trance. And there they're left, swinging away until the last third of the song where an abrupt saxophone break briefly interrupts, only to deliver the listener safely back into an absolute state of bliss and felicity.
Mense and Jakobus' brilliant Pantha du Prince remix got people wondering but even before that the question cropped up: what is this music?
DJ Koze calls it 'Sect Funk'.
We say: Pampa style in its purest form!