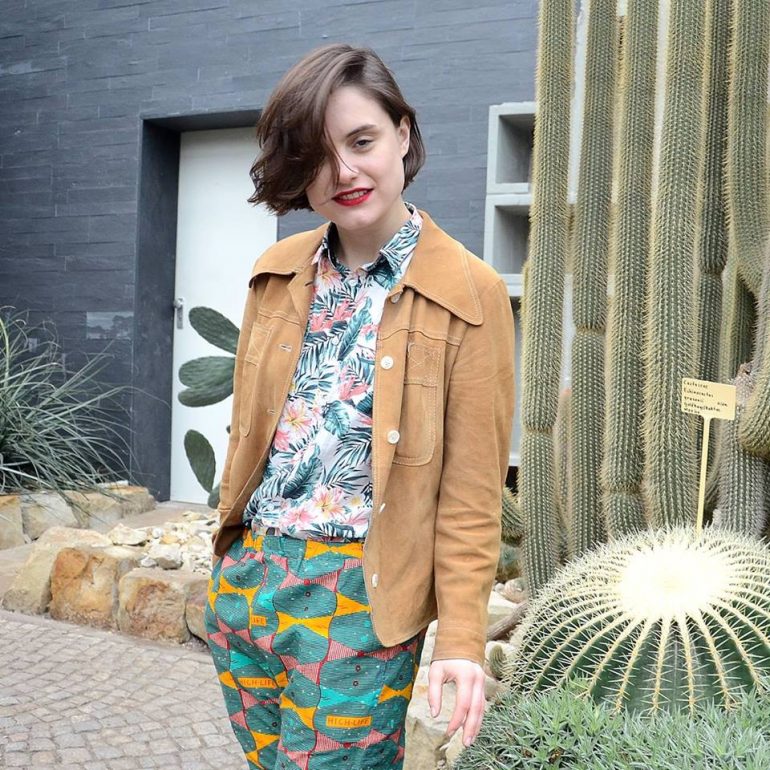 Sophia Kennedy
Elegant, melancholic, sometimes menacing, with smoldering piano melodies, desolately whistling organs, and a jaunty jaw's harp loop; kissed by the golden Californian sun, or shrouded in gloomy, dreary fog: Sophia Kennedy is currently the most versatile composer in German pop music – not to mention the greatest singer. Her debut album "Sophia Kennedy" reveals her as a dramatic romanticist and distanced diseuse, as a deft lyricist and master of melody. In her eleven songs, she travels from doo-wop to dubstep, from classic crooning to breathless R'n'B, from Frank Sinatra to Beyoncé. Her talent for songwriting is deeply rooted in history, yet it seeks nothing but the present: both historically versed and timelessly beautiful at the same time.
Sophia Kennedy grew up in Baltimore. Upon arriving in Hamburg to study film, she instantly became a source of enchantment. On the single "Angel Lagoon", which she recorded in the autumn of 2013 with the keyboard-maestro Carsten "Erobique" Meyer, she sounded as lovely, enthralling and blasé like no other singer of the season. In the years that followed she mainly composed music for theater, feeling around for what would eventually become her own style: irony is not an important factor, it's more about appropriation and adaptation, and through effectively minimalistic means, to create space for the voice – for the singing.
Sophia Kennedy produced and recorded the album together with Mense Reents, best known for his work with Die Vögel and Die Goldenen Zitronen. Together they developed the spartan arrangements and electronic textures that determine the willfully dense sound of this album. Often, Kennedy's voice is the only instrument that pursues a harmonic development over the repetitive structures. Then she doubles and multiplies her voice and sings alongside herself in a choir. She shines with bold syncopation over a hobbling piano, as well as in the field of the melancholic lament that suggests a late Beach Boys ballad. This results in multi-dimensional, highly individual music, which easily escapes all the traps of inwardness: just as her lyrics unfold from seemingly simple wordplay to subjective confessionals without ever regressing into the euphuistic pathos of romantic self-reflection.
This is the first songwriting record to be released on Pampa Records, and yet "Sophia Kennedy" is perfectly at home on this label, which for almost a decade has been making the connection between tradition and modernity, avant-garde inventiveness and pop sensibility. One can detect different traditions and historical impressions in every track – yet you can forego all the analysis and simply enjoy the craftsmanship with which Sophia Kennedy creates an absolutely contemporary musical language from her knowledge of classic songwriting: "I want to take tradition to the limits, to where it becomes extreme," she says, yet it sounds so easy and not at all preconceived. The unheard-of refinement of this music lies in its apparent simplicity: "You just can't be afraid," says Sophia Kennedy, "that it turns out to be pop music."
DJ Koze - Candidasa (PAMPA040 digital)
DJ Koze - Wespennest (feat. Sophia Kennedy) (PAMPA040 digital)
DJ Koze - Drone me up, Flashy feat. Sophia Kennedy (&ME Remix)
Sophia Kennedy - Seventeen - (Official Video)
Sophia Kennedy - I'm Looking Up (Official Video)
Sophia Kennedy - I Can See You (Official Video)
Sophia Kennedy - Cat On My Tongue (Official Video)
Sophia Kennedy - Monsters - 2021 Trailer
Sophia Kennedy - Orange Tic Tac (Official Video)
Sophia Kennedy feat. RTO Ehrenfeld - "Being Special" | NEO MAGAZIN ROYALE in Concert - ZDFneo
Sophia Kennedy - "Being Special" Offical Video
Sophia Kennedy: "Sophia Kennedy" - Album-Trailer (Pampa CD012)
Sophia Kennedy - "Build Me A House" (Pampa CD012)
Sophia Kennedy - "Being Special" live on BR Zündfunk
Pampa Records party @ El Monasterio 2017, grand finale by Sophia Kennedy