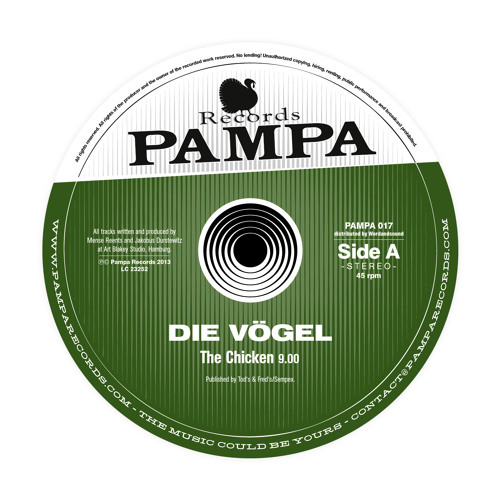 PAMPA017 - The Chicken
Die Vögel
More Info
"Die Vögel" is German for "the birds", but those who've been following Pampa Records from the beginning know that this duo isn't some Schlager tribute to that hippie folk band.
Not counting last fall's excellent remix for Dntel, it's been nearly two full years since we've heard from Die Vögel. Is something afowl? Not to worry: Jakobus Durstewitz and Mense Reents still flock together and their new EP is ready to hatch, just in time for summer. And they've got quite an interesting guest with them this time...
"The Chicken" begins with that familiar Pampa swagger, all clickety clackety in 3-D, and soon we hear the extended howl of some kind of beaked instrument, searing into your skull, as a looming voice dares you to "try to look a chicken in the eye". Is that Vincent Price? No, it's famed shoe-eating director Werner Herzog. (But yes, this release could prove itself to be no less than Die Vögel's Thriller.) Further layers of this hypnotic laser cry enter and exit, beckoning the sunrise, but you, my friend, are captive to its trance for the entire nine minutes.
After you pull the feathers out of your mouth from that existentialist affair, turn to page B for "Mesmerize": This one is easier on the psyche, both majestic and gentle, with legato horns and strings massaging your mood. Neapolitan sherbet for open-airs and open ears.
So there you have it, perhaps the definitive Pampa 12", bearing that dependable turkey logo, credited to Die Vögel, named after to the world's most populous domesticated bird. Another coop from DJ Koze and company.