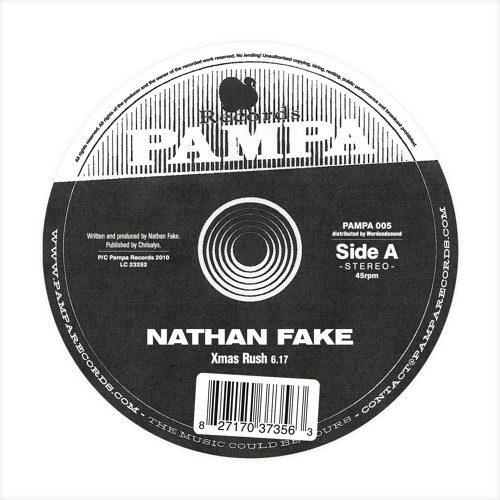 PAMPA005 - Xmas Rush / Mi Cyaan Believe It
Nathan Fake
More Info
"I keep asking myself where they take all that brilliant music from. It's just as if somebody had poked a bees' nest and then it all burst out. I feel deeply connected to the Pampa Style..." (Terry Hogann, The Musical Mistress, 10/2010).
As was to be expected, Pampa is steadily developing into a platform for cross-border electronic dance music. Each Pampa release sounds different from the previous and still Pampa remains a conclusive musical planet. This is all the more surprising in the case of PAMPA005, which features two completely different artists:
Side A: Nathan Fake - Xmas Rush
Having reportedly recorded his track "Xmas Rush" in his London studio during a jam session, Nathan Fake (Border Community, Traum, SAW) has turned in a total brainfuck. It's mercylessly exaggerated, psychedelic, inexorable, and at the same time sweet and heart-warming. A very rare mixture. Unique in its consistency, we haven't heard anything like it since the 90s. It's so nice and overwhelming to have your ears exercised the right way again. Evergreen...
Side AA: DJ Koze pays tribute to Michael Smith - "Mi Cyaan believe it"
In the meantime, DJ Koze has moved on to completely different spheres. Once again, he astonishes his public with an extremely danceable version of Michael Smith's "Mi Cyaan Believe It". Having originally started off as a digital error, and recorded within a single night, this tune recalls the ruthlessness, rawness and revolutionary energy of Public Enemy. You can literally see SW1 deploying on the balcony of Amnesia, shitting down diarrhea. The rough and dry beat sets the perfect scenery for the breath-taking lyrics by Michael Smith, the great dub poet, who was tragically beaten to death by political opponents in Jamaica in 1983 (the incident sadly occurred on Marcus Garvey's birthday), alongside Linton Kwesi Johnson, and Mutabaruka, who was one of the most well-known dub poets.