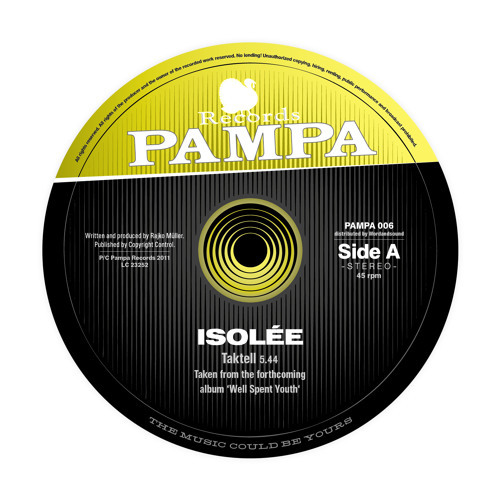 PAMPA006 - Taktell / Thora Vukk
Isolée, Robag Wruhme
More Info
Pampa Records is back with its sixth release. This one will be a split 12" of Isolée and Robag Wruhme who each drop tracks of their upcoming artist albums to be released on Pampa in 2011.
Side A: Isolée -Taktell
There it is again – the very unique Isolée feeling. This diffuse happiness that occurs. No matter in which club of the world this tune might be dropped, pure euphoria appears instantaneously. "Taktell" is a warm, intelligent timeless piece of music. Yes, it's classic mesmerizing, melty, melancholic, terrific sounddesigned Rajko Müller material. Oh, that's Isolée's real name. Yes, it's hard to believe something so beautiful could come from such a wretched species as homo sapiens. This is the kind of music that sounds like it was plucked directly from a dewy-leafed Haribo tree by a one-eyed synthasaurus. It's an evergreen already and taken from upcoming Isolée album Well Spent Youth, to be released on Pampa Records on January 28th, 2011.
Side AA: Robag Wruhme - Thora Vukk
Robag Wruhme, by no mere coincidence, is also preparing his latest full-length album Thora Vukk, to be released in late March 2011. Robag´s festive anthem "Thora Vukk", here in a special 12" edit, raises highest expectations on the upcoming longplayer, which guarantees the most exceptional & beautiful material that the world has seen in a long time. On "Thora Vukk" THX-sounds meet frenzy-melancholy, tardiness on focused half metallic reverberations and half fairy-tale make-out sessions. This is the kind of dance music, that reflects the belief in the movement perfectly.
TRACKLIST
Robag Wruhme - Thora Vukk (12 " Edit)