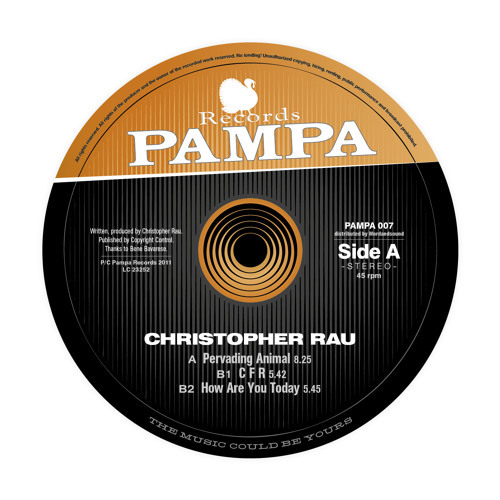 PAMPA007 - How Are You
Christopher Rau
More Info
Over the last couple of years, Christopher Rau has built a reputation as the finest ear canal masseuse in the contemporary house music scene, catching the attention of fellow Hamburger DJ Koze who has recruited him for this new three-track EP.
Rau's debut full-length Asper Clouds, released in the fall, was noted for straddling the line between "club" and "headphone" music, earning 4 out of 5 stars from Resident Advisor along the way, and now, with the How Are You EP, he follows up to further explore his sonic approach: an assault of subtlety.
"Pervading Animal" is built upon a solid foundation of familiar rhythm box elements, but like vines and moss, the sedating sounds of strings and keys envelop the empty spaces, showing Christopher Rau's ability to combine the artificial and the organic into something transcendent. Then, on the flip side, he lets his weirdness factor shine. At first, "C F R" sounds like by-the-numbers Muppet New Age, but graduates with distinction as the meowing synth squiggles saunter over the basketball beat. The EP denouements with "How Are You Today", marked by a toasty chord progression that's playfully trying to compose itself as the track moves forward, turning science fiction into science fact. You want to believe.