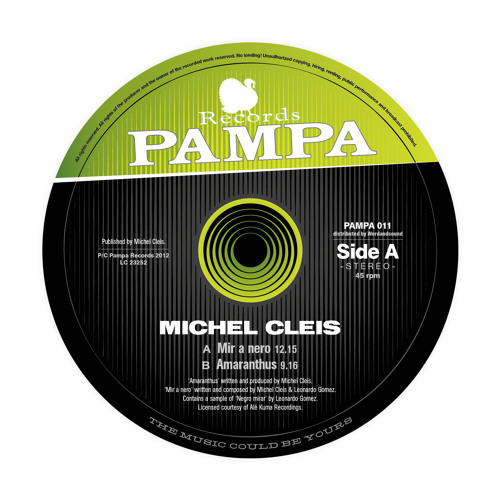 PAMPA011 - Mir A Nero
Michel Cleis
More Info
It's been three years since Swiss producer Michel Cleis conjured a storm with "La Mezcla", a Cadenza hit cemented into house canon as it was swiftly reissued by Strictly Rhythm, bringing the sabor latino into clubs worldwide. Some more 12"s and a number of high-profile remixes (going from tracey thorn to skunk anansie,for labels like rekids , bronswood or Aus) later, he's now teaming up with DJ Koze's crew for his next move: a colorful, crescendoing 12-minute tune that's ready to make a splash in your summer soundtrack.
"Mir a Nero" begins with a steady, upbeat kick underlying a simple piano arpeggio – like if Philip Glass make dance music – but then some accents of vibrant hand percussion loosen up the vibe, soon progressing into rhythmic layers that cause the energy to swell. By the 4-minute mark, a subtle, buzzing synth permeates the background, contrasting the track's overall organic feel, leading into the playful piano chords and colombian vocal hook. Simply put, this is Latin House with that anomalous Pampa Records swagger, drenched with flavor like Sangria-soaked mango.
Flip that baby over and you get "Amaranthus", named after the famed flower that represents immortality. This piece stands as a color-negative of "Mir a Nero", an unwavering stomp with just shadows of the piano sample heard earlier. Freeze-dried rather than sun-ripened, "Amaranthus" is a dubby, more technofied counterpart to the A-Side, crafted for deeper and darker moments on the dancefloor.