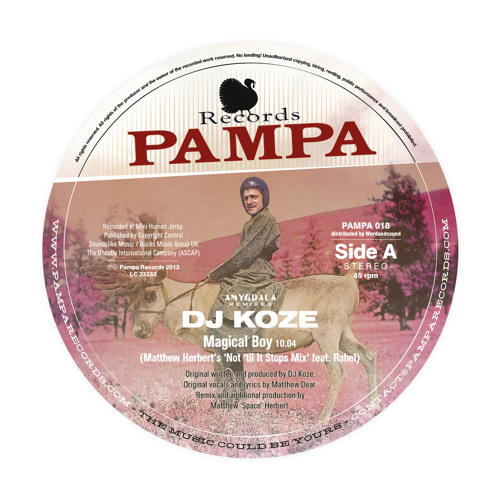 PAMPA018 - Amygdala Remixes #1
DJ Koze
More Info
Matthew Herbert vs. DJ Koze – take two! Yet another stroke of genius!
When these two troublemakers collide, the result is somehow always awesome. After the huge success of DJ Koze's remix for Matthew Herbert's classic "It's only" (#1 on the RA Charts for two consecutive months), Herbert insisted on returning the favor, delivering an instant classic for Kosi Kos. And what a track! His 10 minute remix for "Magical Boy" featuring Matthew Dear is indeed magical, fired by the fantastic and totally unexpected voice of singer Rahel, who transforms the track into a song and gives it a whole new drive. Even Matthew Dear briefly sends off a greeting from a passing cloud. A great spectacle from old master Matthew Herbert, goose bumps guaranteed.
Efdemin strikes back, hotter than ever!
In his remix for La Duquesa, the deep house legend delivers a deep, subtle, galactic, sound spectacle. These 8 minutes are a powerful cosmic trip with an elegant futuristic sound design, tons of heat and unexpected twists. When all the particles blast away after the break in the middle leaving only the dry beat and bass, the sedated closed-eyes dancers will wake up as the spaceship carves its way to infinity – and beyond. These days, only a badass like Efdemin can produce a sound like this.