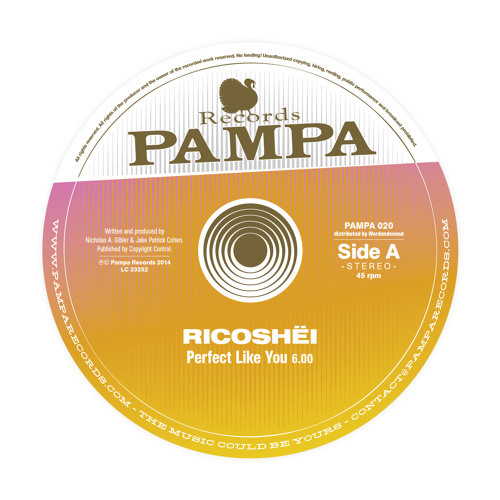 PAMPA020 - Perfect like you / Woolloomooloo
Ricoshëi, Dave DK
More Info
Our first release of 2014 is a split 12" featuring a newcomer act and a veteran name, both new to the Pampa circle, and both of whom manage to adhere to our sound while at the same time widening it.
Ricoshëi is Nikko Gibler and Jake Patrick, based out of Hitland Studios in Los Angeles. "Perfect Like You" is one more pop-tinged numbers to appear on our label, with breathy vocals yearning for the next best thing, sublimated by the ambient tendencies glowing in the track's atmosphere. For all their rampant, nerdy analog fetishization, the duo still knows that emotion—not fancy gear—is the key to connecting with listeners. Hardcore Pampa followers might recognize this one, as DJ Koze previewed it late last year in his XLR8R podcast, and now you, too, have the opportunity to snuggle up with your very own copy. This is the kind of song that makes you want to close your eyes, not to sleep, but to abandon perception to your ears alone – fuelling your heart's imagination.
The flipside is a new cut from Berlin-based DJ/producer Dave DK, short for his real name, David Krasemann, which sounds a bit like "crazy man". And those already familiar with his work know he's got a bit of that madness-bordering-on-genius thing going on. OK, maybe that's an overstatement, but "Woolloomooloo" speaks for itself. Just have a listen and submerge yourself into this majestic cyborg aquarium of a track, and within moments you'll feel the hypnotic, euphoric, nostalgic and anti-ageing qualities. Side effects may include dizziness. (But probably only if you are standing on the vinyl while it's spinning.)
What a start into 2014!!