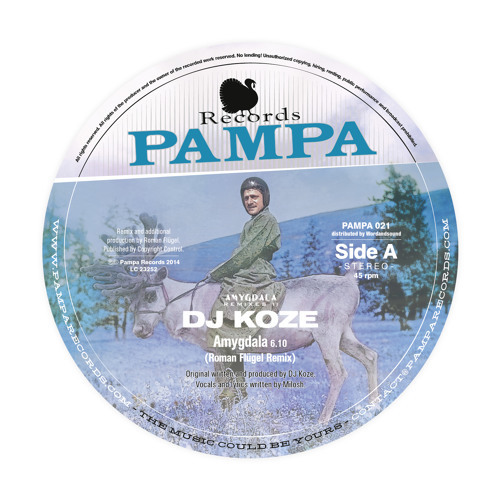 PAMPA021 - Amygdala Remixes #2
DJ Koze, Robag Wruhme
More Info
Despite all the collaborations on last year's Amygdala by Pampa cult leader DJ Koze, there was still one recurring comment from the public: The album still had DJ Koze's trademark stamp all over it. That is why have been taking the proper steps to rectify this problem, offering a remix series, to further disassociate DJ Koze from this otherwise respectable assortment of songs. Here is the second installment.
First up is Roman Flügel, co-founder of the legendary label powerhouse Ongaku/Klang/Playhouse, not to mention his more recent releases on Clone and Live At Robert Johnson. We have no idea what kind of app he used, but somehow he transformed the title track "Amygdala" from a laid-back, wind-chiming electro-pop number into a clock-working tech-house fairy tale. Roman wisely and tastefully retains the original guest spot from Milosh (of the duo Rhye), offering a grittier backdrop for his lulling vocal delivery.
Next comes Robag Whrume, who is no stranger to any Pampa fan, having released an album and a mix CD with us, aside from his countless other works. Here he has taken the pleasant puffiness of DJ Koze's "Nices Wölkchen" and incubated it in a deep house cocoon. The witch-shifted voice of guest singer Apparat is given a new life, hovering amidst a mesmerizing mechanical groove. As always, there's nothing formulaic about Robag's formula as he serves up little moments of magic.