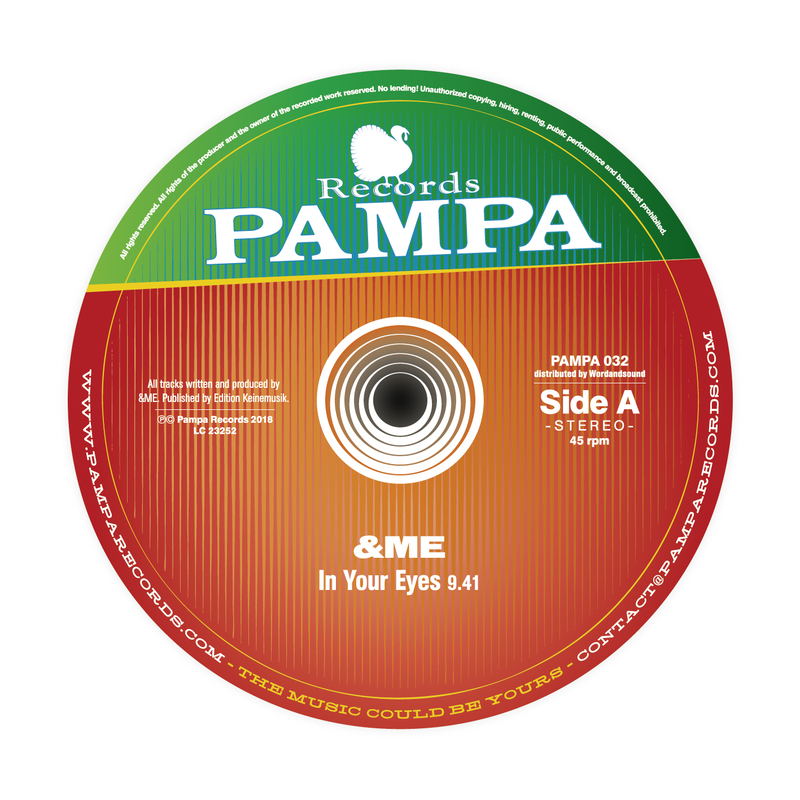 PAMPA032 - In your eyes
&ME
More Info
Release date 12": September 21th, 2018
Do you know what time it is? It's debut o'clock. Emitting his first material for Pampa, it's &ME - craftsman of all things deep and sturdy, at the same time connoisseur of emotive touch and virtuoso of sure instincts, one of the scene's central characters for a good amount of years now and one of the main figures of Berlin's Keinemusik-crew. The man has been hitting the bulls eye of public perception several times in the past, meeting everything it takes to get a crowd going with an intent on the detail when it comes to his arrangements and sound. These new two cuts seem nothing less than the essence of his abilities.
There is "In Your Eyes", the name lending A side to this EP, showcasing a rather pensive mood. It's just a few bars for the compound of kickdrum, tuned hi-hat tambourine and shimmering background noise until the first chords of an improvised piano-piece are tenderly laid upon the beat. Add a synth-motive coming back and forth and you'll have the main ingredients to this – in every sense of the word – floor-moving tune. Accordingly, the arrangement won't aim for an all too obvious sensationalism and rather opts for a flowing and intertwining call and response of its elements, ultimately resulting in a staggering impact anyway.
In comparison, "As Above So Below" on the flipside is adding a fair amount of emphasis. It unfolds in a dry and dense sounding beat-architecture that's suspense-packed with shaker sounds and subtextual field recordings. Most certainly, a slip-proof ground for this tune's centre-piece, a scale-riding synthbass sparking an almost anthemic trigger for floor-ecstasy. While details like subtle reverberating tapping and sparkling ambient textures sound like recorded deep down in a dripstone cave, the overall energetic layout pushes relentlessly to the heights of peaktime-grandeur. There you have it: "As Above So Below" - this tune works on every level.