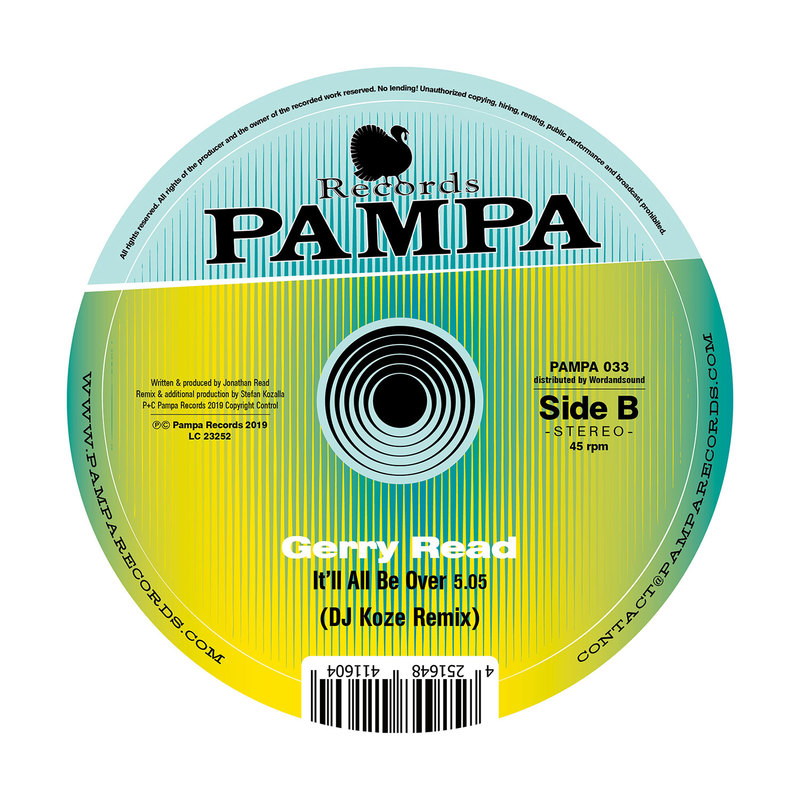 PAMPA033 - It'll All Be Over
Gerry Read, DJ Koze
More Info
Release date 12": May 10th, 2019 - available also here
A heaven-made match is now complete with Gerry Read's debut EP for Pampa Records. The British producer's distinctively twisted, lo-fi sound, combined with Pampa's deep-vein instinct for quality quirks, ushers in a new phase for two of house music's most celebrated names.
The opening bars of "It'll All Be Over" are immediately evocative, hinting at the patchwork style to come. Twangy banjo strings and a foot-stomp beat seem to herald a folksy arrangement, but that isn't to be. Soft floaty pads rise up to form an unlikely partnership, softening sharp edges and adding sophisticated melodic expression. Once a compressed vocal sample is introduced, the entire structure reveals itself and begins to spin and loop in the style of iconic French house productions. Propelled further along by the endearing drama of flooded bass drum kicks, falsetto voices and xylophone pings, "It'll All Be Over" is immediately memorable and expertly architectured.
Read's second cut, "Satyricon," is woven in the spirit of micro-house. Sharp waveform cuts, timely pauses, loops of noodling keys and hints of percussion shakers combine for a low-slung psychedelic effect. With the sunniness of a vintage folk-pop sample and sultry snatches of Spanish dialogue added atop a deep mid-tempo shuffle, Read secures his place alongside the Bradocks and Leclairs who came before him.
On the flipside, Pampa's figurehead takes an expert turn at the controls of "It'll All Be Over (DJ Koze remix)." The original's jagged edges are buffed out, and shined up into a gleaming disco house anthem. With its artfully timed strumming breakdowns and cowbell accents, it is an appetising teaser of the forthcoming summer.