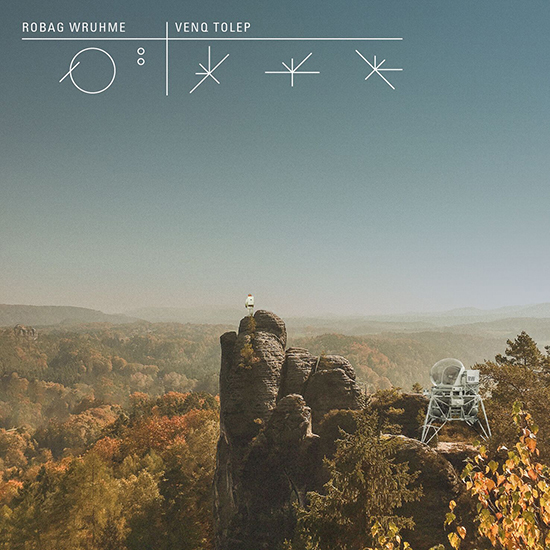 PAMPACD014 - Venq Tolep
Robag Wruhme
More Info
Release date: june 7, 2019
Listen & buy the Album HERE
Format: Limited Vinyl (2xLP + 7inch + mp3 Download) / CD
Title track ´Venq Tolep´ is available HERE
Second single ´Nata Alma´ is available HERE
PAMPA035 - Nata Alma / Venq Tolep E.P. is available HERE
---
Landed on a cliff, disembarked; fixed a friendly gaze out over the Green Planet for the first time.
What it is, and what it conceals, seem like one and the same.
Details cannot be distinguished from the whole; they are intrinsically connected.
Best to proceed with care.
From Robag Wruhme's first releases on Freude am Tanzen you can already find it: this light-footed rhythm. Like a Huckleberry Finn, hopping through the world on one leg – a native alien, a familiar stranger. A cosmonaut, floating in weightless orbits from capsule to capsule.
With playful lightheartedness, Wruhme takes synthetic sounds and sampled noises, cuts them to fit, and turns them into beats without his music ever sounding pieced together: every single percussive sound is a compact unit, always bursting with melody, or at least pointing the way towards it.
For Venq Tolep, his first album-length release on Pampa Records in eight years, this is exactly where Robag Wruhme chooses to dig deeper, expanding the space of these elements. He finds beats inside the beats, opens them up even further, discovers hooklines and harmonies and feels where he can ultimately dispense with rhythms entirely.
Venq Tolep opens with two melodic, melancholic pieces: "Advent" gets us dancing, while "Westfal" has us lying in the grass amid the buzzing heat and rustling wind, wishing that the summer will never end. We hear the voice of Lysann Zander, with whom Wruhme has worked previously on projects including his album Thora Vukk. Hers is not the only familiar name on this album: Sidsel Endresen and Bugge Wesseltoft have both appeared on releases from Wruhme's bootleg label (which I would normally not mention, but we're living in times in which mainstream and club artists see this as anything but negative). Here, they are featured on "Nata Alma," a laid-back club track. "Iklahx" and "Ak-Do 5" both possess a carefree percussiveness, while "Komalh" and "Ago Lades" prove that when Wruhme talks about techno, he means club music more akin to the elegance of London 2-step, perhaps even fueled by R&B/hip-hop and swingbeat, and far removed from the Belgian-Teutonic bunker sound. "Bézique Atout" is a reinterpretation of "Domino," a track from French producer Oxia which Wruhme remixed in 2017, stylishly making it his own. Two more familiar tracks are "Volta Copy," a version of his 2015 hit "Volta Cobby," minus the beat, but now propelled by arpeggios, and "Ende #2," like greetings received from around the world in a day, picks up where "Ende" from Thora Vukk leaves off.
Finally, the title track, "Venq Tolep," draws on all the album's various movements in 4 minutes and 18 seconds: the light, pensive mood, the subtle, driving rhythm in the mid-BPM range, the ambient-sounding layers of synthesized strings and the percussive electric piano melody lines.
The earliest tracks on the album date back seven years, while the newest were recorded in 2019. Yet, you would never guess that from listening. Venq Tolep has such a well-rounded sound. Like an arch unfolding in space. And that, of course, is the universe of Robag Wruhme. Warmth instead of coolness, friendliness instead of distance. But with Venq Tolep, Wruhme creates something even more extraordinary: the album may speak the language of club music, with seemingly familiar soundscapes, layers and arrangements, but the tracks on Venq Tolep boldly verge on feeling like songs. Is it techno pop? Pop techno? Pop ambient? Ambient pop? Let's just say that Venq Tolep is Robag Wruhme's first venture into pop music.
7" (Limited Vinyl only!)
A ANTON III
B ILA I